Overview
Oahu Beachfront Princess Condo 5 sits right on the beach and offers stunning  oceanfront views at reasonable rates.  Hop on a plane and  enjoy  your paradise vacation.
You'll love the feel of this low-floor condo from the moment you walk through the door! It's like being right on the beach, but with more privacy and security than being at ground level. You can practically feel the waves breaking outside your beautiful lanai! If you're looking to soak in the sounds and sights of a real beach vacation, this is your condo! You'll enjoy watching the surf as you prepare a meal in the open kitchen, or relax in the living room. If you decide to cook outdoors, you're just steps away from the elevator that will take you down to the BBQ area. You can use one of the 3 propane grills to cook your perfect dinner, and it won't get cold before you're back on your own private lanai to enjoy it! There's also a cozy table and chairs, or bar stools for dining indoors, if you prefer.
This light, breezy, airy condo is super clean and ready for you!
Please note–the numbers after the Princess units are only our personal designations. Each of the beautiful Princess condos is located inside one BEACHFRONT building—yep! right on the beach!! Contact us to find out more!
The Princess building has a roof-mounted, water-cooled AC system which is NOT like the AC you may be accustomed to—it will simply never get icy cold.  If you require super cold AC, this may not be the condo building for you. 
Condo has ceiling fans, stand fans, GREAT cross-ventilation, and normally WONDERFUL trade winds that keep the condo very comfortable. There is a portable AC in the bedroom for night-time sleeping comfort only.
Take a look at the lovely pictures of Oahu Beachfront Princess Condo 5 below:
This gorgeous, remodeled, one-bedroom/one-bath condo is located on a low floor (not ground floor though) and is a very comfortable place for your island vacation.  It is a fully-furnished condo with everything you could possibly need for your vacation in paradise. All you need to pack is your swimsuit, slippahs (flip flops), and sunscreen!
Equipped with a spacious KING bedroom, TVs, double-size sleep sofa, kitchenware, full-size appliances, and linens (including beach towels), everything  for your comfort and convenience during your stay.
The refreshing ocean breeze, along with great cross-ventilation, ceiling fans, and stand fans will most likely make your condo cool and airy–you probably won't be needing the air conditioner at all. The Princess building has a roof-mounted, water-cooled AC system which is NOT like the AC you may be accustomed to—it will simply never get icy cold.  If you require super cold AC, this may not be the condo building for you.
The spacious lanai in Princess 5 is great for your morning coffee or evening sunset watching. Lie back, relax, and listen to the conch shells blowing at sundown.
Oahu Beachfront Princess Condo 5 is complete with outdoor barbecue, pool, hot tub. tennis/picke ball court, free parking, free WiFi, and NO resort fees!.
Please remember, The Princess does not allow smoking. The Condo Association bans smoking in/on any part of the premises. There is a "no warning" $500 fine for violation of the very strict policy. A smoking area is located on the property for your convenience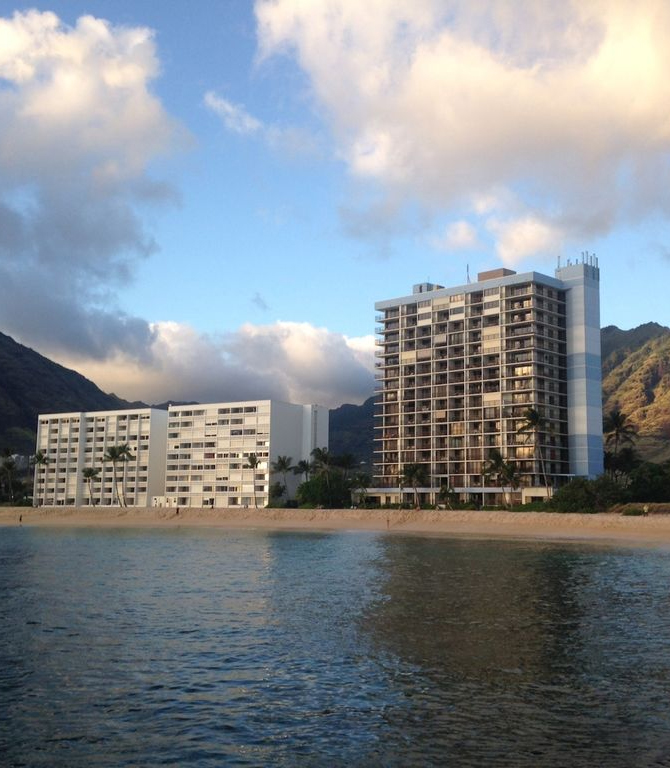 We like to book at least 5-7 nights unless we have a gap in our bookings, so please ALWAYS ask us before you finalize your booking. We may be able to accommodate you and your party for a shorter or longer stay! We aim to please!
For Easter, July 4th, Labor Day, and Thanksgiving, please add $10 per night to the regular charges.
Please check out the rates page for information  or contact us for more information.  We reply to email very quickly!
Please note that a 14.97% Hawaii State Tax will be added. Additionally, $175 & Up will be charged for cleaning depending on how many guests you have, how long you stay, and the ages of the children accompanying you. The maximum number of people in an accommodation is 4; however, depending on the circumstances and the ages of  children, we can sometime flex with this.
You will be required to pay one-third of the rental cost to confirm your reservation and pay the rest of the balance within 60 days before your arrival. For Christmas/New Year dates, you are required to pay 90 days in advance.
A 100% refundable deposit of $300  is required when you make your booking. This amount is taken in the form of a CREDIT CARD AUTHORIZATION (CCA) that is NOT PROCESSED–simply held in case of anything missing, damaged (including EXTREME SCRUBBING or STAINS THAT CANNOT BE REMOVED) at post-departure inspection.  If all is OK, we VERY HAPPILY email you to let you know that your CCA has been shredded.  We are very careful with CC info, and hope you understand that we must protect our investment and ensure our property is in good condition for future guests. We assure you that 99.9% of our guests have their CCAs shredded– it is only the very rare careless guests that make this necessary.