Attractions
When you book a vacation to this tropical paradise, you can rest assured that Hawaii has a lot to offer. From breathtaking views and natural wonders to exciting activities, there are various unique things for everyone to enjoy!
Revel in the beautiful scenery: stunning pristine beaches and shorelines, verdant mountains, incredibly delicious aroma or our flowers and trees. Hawaii is nature's treasure trove, offering so much that you'll be left breathless. Whether you're going there for your honeymoon, a family vacation, a getaway with friends, or some precious "alone time," we have your perfect home away from home spot.
We'll ensure your accommodation has everything you look for: stunning views of the beach & sunsets, comfort, and extraordinary cleanliness. Our various affordable beachfront condos give you the best Hawaiian experience.
Whether you want to enjoy Hawaii's various attractions, veg out on our gorgeous beach, watch SPECTACULAR sunsets, enjoy the antics of Hawaii's sea life, or learn about and experience our unique culture, music, and hula, our oceanfront condos are perfect for you.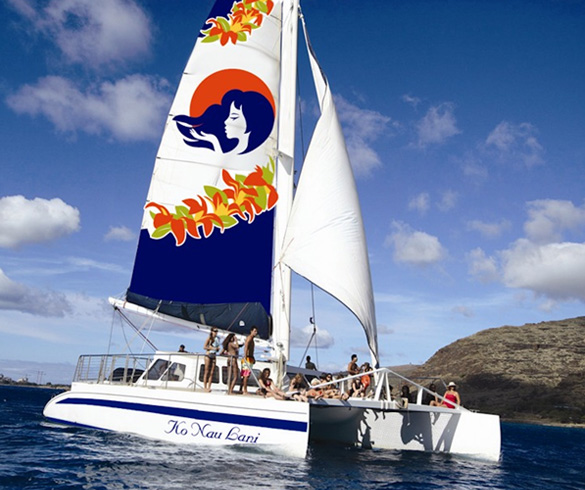 Ocean Activities
One of Hawaii's many exciting activities is boating. Soak in the gorgeous beach and shoreline views of Oahu, and watch beautiful sea life in its natural habitat while on an exciting boat ride. Cruise among the islands; there are several boat excursions from which to choose.
Whether you want to have a party on a yacht with your friends or spend a laid-back day fishing with your family, you're guaranteed to enjoy breathtaking views, year-round sunshine, and an experience of a lifetime.
Many honeymooners take part in Hawaii's growing pleasure boating experience. Sail through the gentle waves while reveling in the breathtaking beauty of the islands around you.
Take part in the various cruises and boat tours available on your next trip to Hawaii. Enjoy sightseeing, whale-watching, fishing, and romantic dinners on the wealth of vessels there are.
Take advantage of our affordable rental condos RIGHT ON THE BEACH! They're SUPER CLEAN, well-maintained, fully-furnished, and located on the fantastic oceanfront.
Surfing
If you're seeking some thrilling adventures on your next vacation, Hawaii is a great option for you. Hawaiian surf spots have earned a place for themselves on the world map, becoming a popular choice for beginners and surfing pros alike!
The North Shore of Oahu is known for its impressive, big swells, drawing in people to Hawaii's gorgeous shores. Surfing is an inextricable part of Hawaiian culture, embracing solidarity among people.
Take part in the exciting activity, catch the perfect waves, and spend your time admiring the wondrous beauty of Hawaii.
Enjoy the excitement of riding some of the best waves in the world.
Our affordable condos are located at the perfect spots, giving you easy accessibility to the stunning beaches.
Weddings
Dreamy views of the beach, tropical sunshine, and a day filled with love–what could be better than a romantic Hawaii wedding at sunset?
Plan a beautiful wedding ceremony or vow renewal ceremony on a breathtakingly beautiful beach. For brides and grooms looking for a place for a unique expression of their love, Oahu has the most gorgeous locations. Bring your wedding fantasy to life whether you want an intimate ceremony or an extravagant event.
Our accommodation options are very budget-friendly when compared to hotels near us where the rate for the least expensive room is a shocker!.
Each one of our beachfront rentals has the charm of Hawaii packed into it. Say Aloha to a life full of love and fulfillment at one of the most gorgeous locations you can find.
Want To Vacation In A Tropical Paradise?
We'll Make It Extra Special For You!