Overview
This low-floor condo is beautiful and convenient. It offers privacy and security that you can't get with a ground-floor unit, but you still feel like you're right on the beach! The views are fantastic and the sound of the ocean will soothe your soul. You're also just steps away from the stairwell that leads right to the pool and hot tub! Of course, if you don't like stairs, the building does have two elevators for your convenience. The sunset views are terrific, and the sound of the waves is transformative! The open kitchen offers you a terrific view of the beach while you prepare a meal or mix up a cold beverage. Can't you just taste it already?!
This gorgeous condo was recently remodeled. With beautiful porcelain tiled floors, enjoy the sparkling white kitchen and a fantastic new bathtub.
It's a light, airy, bright, and beautiful condo for you and your loved ones to enjoy.
Fully-equipped and furnished, this beachfront condo sits right on one of the most gorgeous beaches of Oahu!
Take a look at the lovely pictures of Princess 2 below:
Please note: the numbers after the Princess units are only our personal designations. Each of the beautiful Princess condos is located inside one condominium building RIGHT ON THE BEACH!
FREE PARKING/FREE WiFi/NO RESORT FEE
Princess 2 is a quiet, private condo on a lower floor. This one-bedroom/one-bathroom condo is ideally suited for couples who are looking to spend some quality time together, but it can accommodate up to 4 people if need be (not suited for little ones–lots of glass and mirrored walls plus an unmounted TV. The Princess 2 is completely furnished with everything you need to complete your paradise vacation in Makaha.
Condo is located in a secured building with a pool, jacuzzi, tennis court, outdoor barbecue area, outdoor showers, and a party room. The condo sleeps up to 4 people –has king bedroom and queen sofa bed, and single floor futon
Princess 2 is directly beachfront and offers a fantastic view of the ocean, beach, and SPECTACULAR sunsets! It comes with a 40" flat-screen TV in the living room and a 32" flat-screen TV in the beautiful king bedroom. All linens provided including beach towels.
Unit is equipped with all the necessities: furniture, kitchenware, dishwasher, televisions, ceiling fans, linens, snorkeling equipment, boogie boards, cooler, beach chairs, and air conditioning that you probably won't need because of the refreshing trade winds and fantastic cross-ventilation. The Princess building has a roof-mounted, water-cooled AC system which is NOT like the AC you may be accustomed to—it will simply never get icy cold.  If you require super cold AC, this may not be the condo building for you.
Please remember, smoking is not allowed here. The Condo Association bans smoking on/in any part of the premises. THIS IS A VERY STRICT BUILDING RULE–"NO WARNING" $500 FINE FOR VIOLATION. There is a smoking area located near the building for your convenience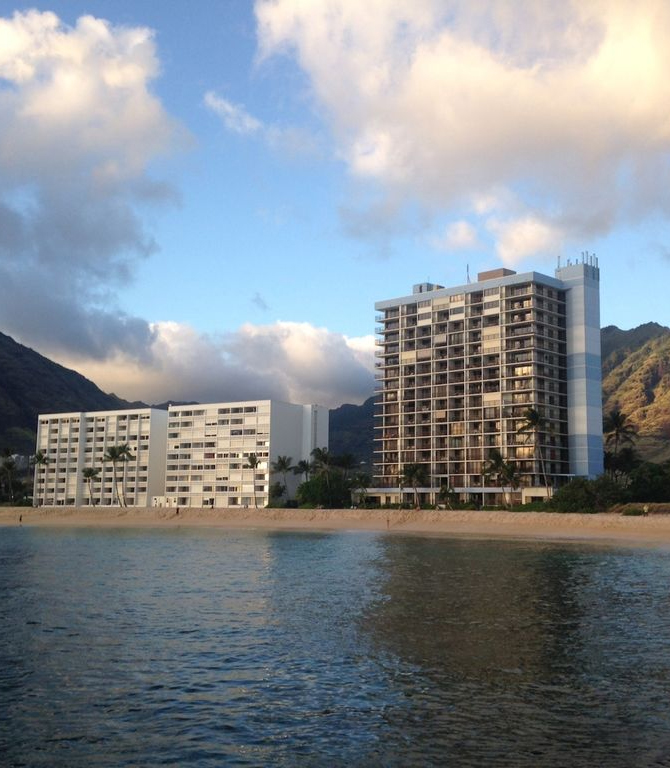 The minimum stay is 7 nights unless we have a gap in our bookings, so please ALWAYS ask us before you finalize your booking. We may be able to accommodate you and your party for a shorter or longer stay! We aim to please!
For Easter, July 4th, Labor Day, and Thanksgiving, please add $10 per night to the regular charges.
Please check out the rates page for information about the rent or contact us for more information.
Please not that a 14.97% Hawaii State Tax will be added. Additionally, $150 & Upwill be charged for cleaning depending on how many guests you have, how long you stay, and the ages of the children accompanying you. The maximum number of people in an accommodation is 4.
You will be required to pay one-third of the rental cost to confirm your reservation and pay the rest of the balance within 60 days before your arrival. For holiday season and peak dates, you are required to pay 90 days in advance.
A 100% refundable deposit is required when you make your booking. This amount is to cover for any damages or loss to the property during your stay. The amount will not be processed, it'll be held and returned to you after we have inspected the unit.
We hope you understand that this amount—paid either by a separate check or credit card—is necessary to protect our investment and ensure our property is safe. We assure you that almost all of our guests receive the 100% refund, it is only in situations of loss or extraordinary cleaning required that we deduct the refund amount.